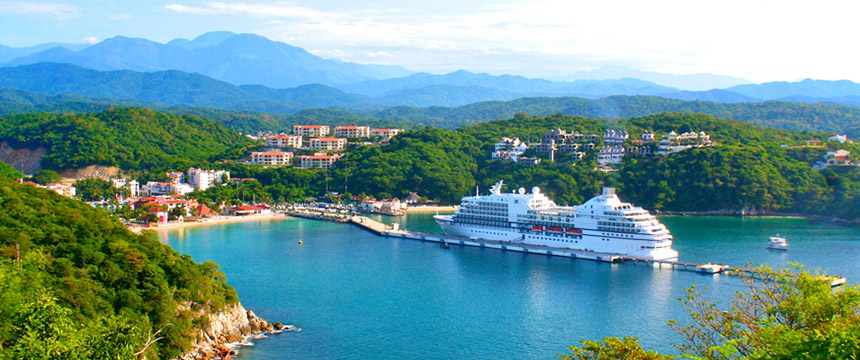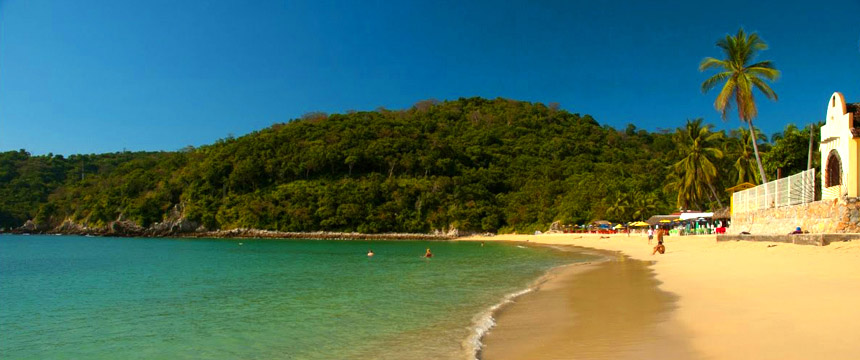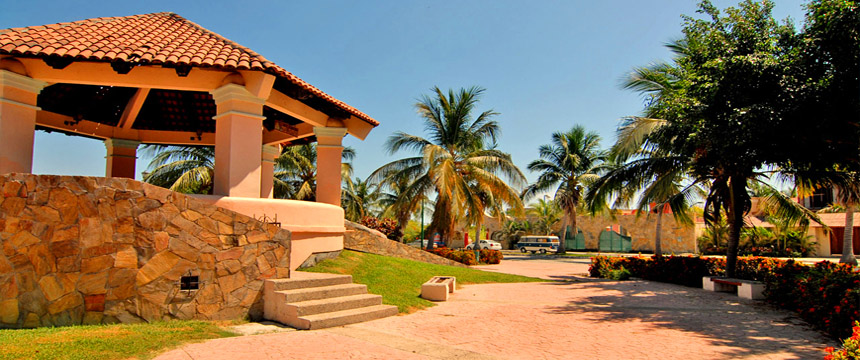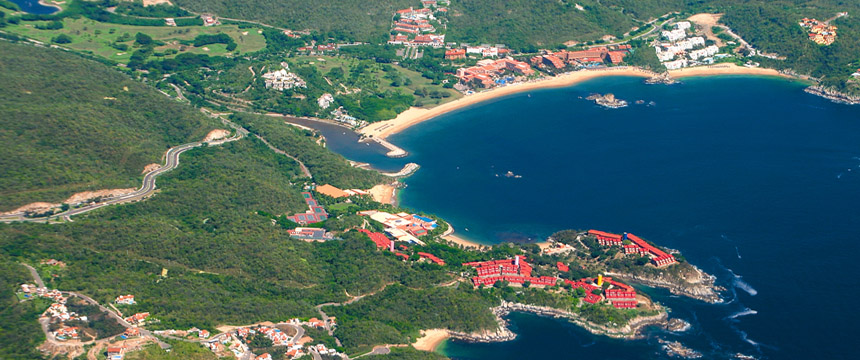 Huatulco
Huatulco is one of the most enigmatic destinations. Its location, on the southernmost coast of Mexico, invites one to enjoy the tranquility and warm waters of the Pacific Ocean.

The configuration of the Mountains of the Sierra Madre located along the coast of Oaxaca, creates mountains that sweep down to join the sea forming splendid calm bays to protect its beaches.

With extensive highways and a 45-minute flight from Mexico City, Huatulco retains its proximity to major cities in Mexico, USA and Canada. This is one of the preferred touristic destinations for domestic and foreign visitors.

Huatulco is suspended in tranquillity and warmth, lending uncrowded beaches, a profusion of water sports (great fishing and diving), grateful entrepreneurs, several high-end hotels, an impressive 18 hole golf course, adventurous excursions to beaches, mountain rivers, coffee plantations, nearby mountain villages, via jeep, horseback, mountain bike, rafts and kayaks.

Seen from the air, it is a spectacularly beautiful meeting place of a sea of mountains and the waves of the sea. Beaches splashed with stones in an almost Oriental rock garden and coastal lakes teeming with animal life are some of its most prominent features.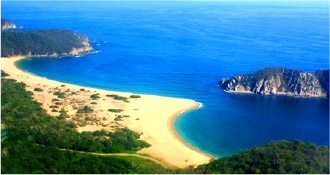 Bays
The beauty of the 9 bays formed along more than 35 kilometers of coastline, make Huatulco a unique heaven. Its natural diversity continues to harbors intact ecosystems and many pristine beaches that can be visited by boat and by car.

The diversity of its 36 beaches exposes the honey-colored fine sand, each beach different from the other. The winds and the music of the waves on the beach mingle to delight our sense of pleasure and harmony.

These exceptional bays have become the subject of geographic studies and famous movie scenarios. Each beach with its intimacy, reserves mystery for its visitors.

Infrastructure
Huatulco is considered a comfortable destination thanks to the impressive growth in its infrastructure and quality of life. Every aspect of the planning and integration in this destination has been crucial for its development and for its inhabitants.

In the Bays of Huatulco, a 22 mile stretch of coastline and 52,000 acres (22,000 hectares), 16,000 hectars of which are ecological reserves, in the state of Oaxaca (about 240 miles south of Acapulco), pristine and clean, tropical Huatulco boasts nine intimate bays with 36 beaches (it is possible to be really alone), and an impressive infrastructure to insure your safety and comfort. At busy Santa Cruz Bay, the Marina has about 200 slips. The cruise ship dock in Santa Cruz Bay is receiving on the average of 50 cruise ships per year.

Through its International Airport, only 15 minutes from the development, Huatulco welcomes domestic and foreign tourists with direct flights from Mexico City, the United States and Canada, and continues to increase its capacity.

The maintenance and strategic integration of every aspect of Huatulco is fostered by FONATUR, institution that has consolidated along the years and that has acquired extensive experience in defining comprehensive and competitive investment projects.

Huatulco is a place where the Mexican government is doing something very right. The boulevards are beautifully landscaped and waste waters are treated and recycled to maintain the vista. A development initiated in the mid-eighties, Bahia's de Huatulco is experiencing a healthy, slow but committed growth, a blessing in disguise, since Mexico has learned from prior experience in resorts such as Acapulco and Cancun. NO sewage goes into the ocean. Traffic/pollution is NOT an issue.



"

There is only one place in the world like Huatulco

"
Weather
Current Weather
82 &degF
Huatulco has a pleasant climate with warm sunny days and a semi-wet slightly humid ambiance that creates a totally tropical environment from anywhere in the city.

With its almost 365 sunny days a year, Huatulco's sunsets make the ideal moments for a walk on the beach, a stroll around town, cocktails on the terrace or an evening sail. Its average temperature is 28 º C with an easily predictable light rainy season, during the months of July through October.

The City
Huatulco is a vibrant destination! Its beaches, weather, activities, peaceful streets and the friendliness of local people come together to establish itself as a unique place to live.

A journey through the cuisine, natural beauty, cultural diversity and traditions creates an amazing adventure. But that is not all that there is to Huatulco; it is necessary to live and explore the culture to really be part of it. Some of the main attractions can be experienced in the Bay of Santa Cruz.
Beaches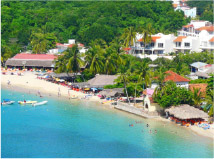 The beach of Santa Cruz is dominated by the most tranquil waves of this destination. Families with young children have fun with each calm wave. Considered one of the most visited places, Santa Cruz beach enhances much joy and beautiful moments shared with the family.
Chapel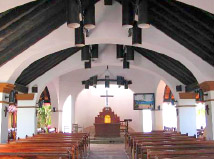 The Legend of "El Madero" (the revered wood) permeates this fishing port. Hundreds of years ago, a piece of sacred wood was found, to which the population attributed miracles. Today, after the passage of the years and several attempts to destroy it, what remains of it is still preserved in this chapel, a peaceful beachfront spiritual place.
Marina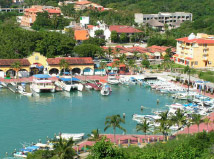 One of the oldest areas of the Bay of Santa Cruz, the Marina is home to all the local fishermen and boats with tourist services. By visiting this place in the morning you can buy the day's catch or sail towards paradisiacal beaches. The Marina blends perfectly with the fishing tradition and tourism dynamics.
Cruises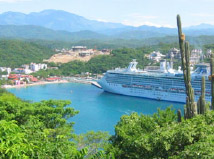 Huatulco has the good fortune of visiting national and international cruise ships arriving at this port. It holds two ships at the same time, while tourists from around the world set foot on Mexican land in the port of Santa Cruz. Boutiques, restaurants, craft shops, traditional music and unmatched Oaxaca cuisine receive the tourists with open arms.
Theater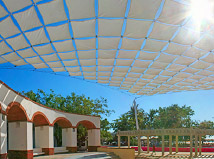 The Santa Cruz Bay is identified by a cultural space dedicated to youth and art in its outdoor theater. The sound of the waves and the sea breeze fills every inch of the theater, achieving a clean and simple setting for any event. This theater has hosted plays, festivals, concerts, cultural events and fashion shows, which are filled with music and art every time.
Shopping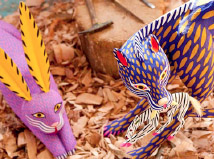 The Santa Cruz Market place is a multicolored and culturally rich craft market. Traditional clothing, traditional footwear, beach items, local souvenirs, Oaxacan crafts and countless products with amazing detail, can be the perfect souvenir from your visit to paradise.

Additional unique arts and crafts boutiques can be located throughout Santa Cruz at Ocean Park Plaza (Sabor de Mexico & Co-op Arte Zapoteco), also along the Marina and Boulevard Santa Cruz.
Alternative Living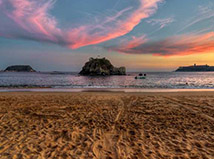 f your dream is to relax under a tropical sun, to be caressed by the ocean breezes, swim in clean waters or only to walk in a peaceful place, then dream no more; your vacation home can now be a year round dream come true. Until recently Huatulco was a well-kept secret, but it is evident that the response of tourism has demonstrated that this special place is not only for visiting, but also for living. A unique ALTERNATIVE to conventional living in a quality, peaceful and exclusive setting, great things await you.
Cuisine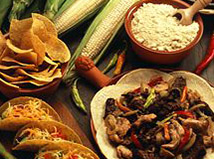 Oaxacan cuisine and seafood combines with the cultural richness of the Oaxacans, making the experience complete and worthy of your paradise found.

The Oaxacan flavors are unique and passed from the grasshoppers in a rich quesadilla until chicatanas rich flavor of sauce (giant ants), blend until the Oaxacan mole, exquisite blend of Mexican chilli seeds and homemade preparation, even in our days.

Oaxacan food is a feast of flavors, including for the Mexican North and central regions.
Club Rotario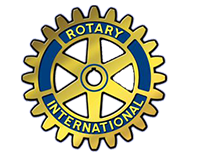 The Community of Huatulco is very diverse, consisting of natives and those fascinated by its beauty who have come to live and enjoy this special place.

This combination has created a diverse community, working together to improve our destination and help the needy.

An example of coexistence and community outreach is the Huatulco Rotary Club, which meets in Santa Cruz, every Wednesday at 8pm at Hotel Binniguenda in its upstairs salon.

Please coordinate your visit with the President, Kino Healey at: kinohealey@yahoo.com.

If you want to know more about the work of the Rotary Club, please contact them at: clubrotariohuatulco@yahoo.com
Location
Nestled on the southern coast of the Mexican Pacific Huatulco enjoys a tropical climate and a unique lifestyle.
Visit Place