Services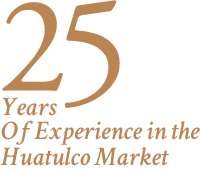 Committed to the safety and comfort of our customers, we provide comprehensive services that aim to save your time and money while searching. With our range of services, you will reap the benefits of an advantageous investment experience, whether rental or purchase.

Property to Rent.
Find a wide range of properties available in our area at favorable prices, options of locations, according to your personal needs. Learn of options, short or long term that fit your rental requirements and budget. Just let us know your preferred price range.

Property Management
With over 25 years of experience in Real Estate in Huatulco, we offer the service of property management, a sure way to receive personalized marketing and care of your property, always looking to satisfy each of our customers. We will treat your property as though it is our own, without you having to deal with important details such as payments for: utilities, annual trust payments, property taxes, salary payments, services of cable TV and telephone and pool care, etc.

Sale of Properties
Our professional sales team will serve you with the best options of properties in the area and according to your interests. We are the link that allows you to enjoy the full closing procedure and acquisition of your property, giving you the best options and advice for all legal procedures necessary in Mexico, for both foreign and domestic buyers.

Advisory and Consulting
As support for your decision making, we offer advice consultations in: architectural procedures, builders, Notary Lawyers (Mexican closing attorneys), specializing in trusts for foreign investors, bilingual attorneys to interpret for you, Accountants and other professionals related to the investment environment in Mexico.
"
Comprehensive advice guarantees
a professional and reliable negotation. .
"
---