Latest News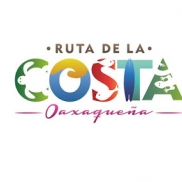 11/03/2016
Oaxacan Coast Route

---
By Secretaría de Turismo y Desarrollo Económico
OAXACAN COAST ROUTE.
The coast of Oaxaca with its vast multicultural composition it's part of the human and natural wealth, where different ethnic groups coexist, known for the two different environments mountainous and coastal, which are exceptional emerald beaches contrasting with golden sands, lagoons, mangroves and lush vegetation marking the state coastline facing the Pacific Ocean preserving it as a hidden paradise. Geographical and natural conditions of the Coast of Oaxaca are ideal for resting, recreation and ecotourism activities, sports and adventure.
This route invites you to explore the most beautiful and breathtaking landscapes of sun and beach, where the communion of the natural and cultural environment captures the attention of visitors. Life in Coast of Oaxaca has preserved traditions and customs strongly linked to the conditions of their original habitat, known for its tranquility and hospitality coupled with a wide range of services, adventures and unique experiences make this a place wich always you want to return.
Destinations that make up the Route:
1. Huatulco.
With its nine Bays and 36 beaches, also a National Park and Eco Archaeological zone, Huatulco is wrapped in a great ecological and service awareness, having international programs and certifications, as Earthcheck Platinum, Blue Flag for Chahué Beach, Ramsar Site 1321, Biosphere Reserve and distinctive S of sustainability, among others, accrediting as a destination with good sustainable practices and make it the main project of the integrated environment preservation development and responsible management of resources throughout Mexico.
Unmissable experiences.- Watch dolphins, turtles, whales, flora and fauna in their habitat; knowing exclusive archaeological remains in the Mexican Pacific; walking or cycling interpretative trails of the National Park; Admiring the butterflies at Yee Lo Bee Park.[…]
2. Puerto Ángel.
It is one of the ideal places to practice a lot of different water sports. Located 80 kilometers from Puerto Escondido, 50 km from Huatulco Bays, and just 15 minutes from Pochutla, this small fishing and touristic port offers visitors the calm and tranquility of its beaches and the warmth of its people
Unmissable experiences. - Enjoy a walk in Playa del Panteon; admire the cliffs and postcards from the lighthouse Puerto Angel. […]
3. Zipolite.
It's one of the few nudist beaches in Mexico and one of the most popular national and international of the kind. The name means "beach of the dead", this because its said that the Zapotecos brought from far away their dead people for burial in this part of Oaxaca. There is another hypothesis for the meaning of the name could be "place of snails".
Unmissable experiences. – Walking at Zipolite Beach, Relax at meditation kroll, watching spectacular sunsets in connection with the inner world. […]
4. Mazunte Pueblo Mágico (Magic Town)
It´s a waterfront community that is characterized by rusticity and direct contact with nature, bated by the waters of the Pacific Ocean, which for its tranquility, are ideal for swimming. Mazunte is a very special place to visit as there have developed very important projects, both nationally and internationally regarding the preservation of turtles.
Unmissable experiences. – Appreciate amazing sunrises and magnificent sunsets in Punta Cometa; learn more in the Mexican Turtle Center.[…]
5. Puerto Escondido.
Recognized nationally and internationally as a destination for surfers and lovers of tourism of sun and beach, Puerto Escondido is an ideal place to enjoy the natural beauty and beaches where you can practice countless sports, both at sea, and in their jungle spaces, mountains, waterfalls and streams that encourage outdoor recreation. Located west of the coastal region, Puerto Escondido is regarded as the oldest resort in the area.
Unmissable experiences. – Watch the sunsets in Carrizalillo; walk at the Cobble and visit the Benito Juarez Market; Sunbathing; swimming or walking at Bacocho; admiring the bioluminescence in the lagoon Manialtepec; watch the surfers who ride the waves of Zicatela.[…]
6. Lagunas de Chacahua. (Chacahua lagoons)
The Chacahua National Park is located in the coastal area of the municipality of Villa de Tututepec of Melchor Ocampo and consists of three bodies of water: Chacahua lagoon, The Pastoria and Salinas. It's a real paradise that has become a really important attraction and ecological research; with a lot of saltworks, where is obtained a very good quality salt that it's sent to the City of Oaxaca and other populations.
Unmissable experiences. – Explore the nature reserve of the National Park Lagunas de Chacahua; Watch the spectacle of bioluminescence in Lagunas de Manialtepec; Bathe in the hot springs of Atotonilco.[…]
MORE INFO AT:
http://www.oaxaca.travel/index.php?option=com_content&view=article&id=50:ruta-de-la-costa-oaxaquena&catid=14&Itemid=259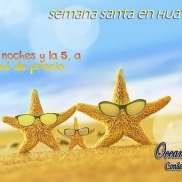 10/04/2017
Easter

---
By Propiedades Ideal
This Easter, come and enjoy the Beautiful Huatulco Bays, in a luxury condominiums located just a few steps from the main beach "Santa Cruz", where you can find wide variety of water activities, seafood, with the seasoning that characterizes the region, accompanied by a cool drink, sitting in the shade of a palapa with an incredible ocean view, or you can also enjoy the privacy, confort and exclusivity that offers you "Ocean Park Condominiums".
Come and discover a new alternative accommodation and make the most of these vacations.
OFFER:
PAY 4 NIGHTS AND THE 5, HALF PRICE!!!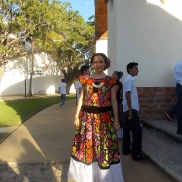 23/10/2015
Conoce Oaxaca

---
By Propiedades Ideal
On Friday October 23 at the Open Air Theatre , it was held an event by students of Cobao Huatulco called "KNOW OAXACA",which presented cultural diversity (clothing,cuisine,dance,etc).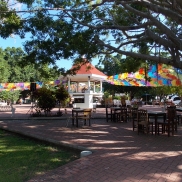 08/10/2015
20 Aniversary Café Huatulco

---
By Propiedades Ideal
Today October 8, 2015, in the kiosk of Santa Cruz, Huatulco, the 20th Aniversary of Café Huatulco is celebrated with a decoration an excellent amenities to go to enjoy a delicious coffe, music and ambiance offered by the site.